This is to discuss the Sonex specifically. ANY Aspect Thereof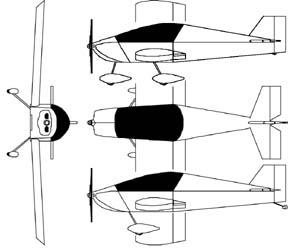 SONEX is a basic and economical all metal two place monoplane. Designed to meet the needs of the European and US sport aircraft markets and meets the LSA requirements in SA too, it can incorporate various light weight contemporary engines of 80 to 120 hp (engine package weight of less than 200 lbs.), and is perfectly suited to the new LSA regulations. The three recommended powerplants include the 2180cc Volkswagon, 2200 Jabiru, and 3300 Jabiru. Outstanding performance is achieved through its clean aerodynamic shape and simple, light weight construction.
The Sonex Plans contain many options, including a tailwheel or tricycle landing gear along with a center or dual stick. Motor Mount drawings are supplied for all three recommended powerplants.
Well thats a basic overview.
SPECS:
Length:
18' 1"
Wing Span:
22'
Wing Area:
98.0 sq. ft.
Tail Configuration:
Conventional
Tail Height (Std Gear):
56"
Tail Height (Tri-Gear):
74"
Tail Width--with tail tips:
92"
(interior width required for enclosed trailer)
Main Gear Width:
71" (with wheel pants)
Air Foil:
64-415
Primary Structure:
6061 aluminum
Cockpit Width:
40 in. More Info
Fuel Capacity:
16 US Gal.
Stall Speed (full flaps):
40 mph [64 km/h]
Stall Speed (clean):
46 mph [74 km/h]
Max Flap Extended Speed (Vfe):
100 mph [161 km/h]
Maneuvering Speed:
125 mph [201 km/h]
Never Exceed Speed (Vne):
197 mph [317 km/h]
Some pictures: